PROCESS PROCEDURES ESTABLISH NEW FACTORY AND CUSTOMS CLEARANCE FOR EXPORT PROCESSING CARGO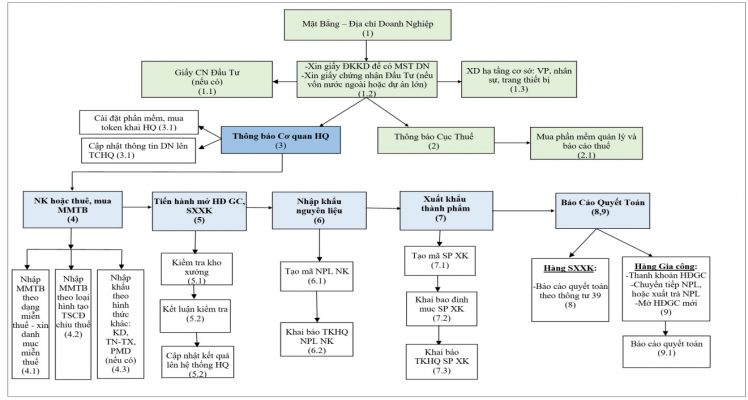 PREPARATION STEPS :
1. Inform to Customs Department:
Introduce the situation of business activities
Priority should be given to enterprises in industrial zones and export processing zones at their local branches
Buying Token USD and register the appropriate service packing
Profile enterprise must provide (certified copy or true copy) :
• 01 Copy of register digital signature using customs.
• 01 Copy of business license of enterprise.
• 01 Copy of tax code registration certificate.
• 01 Copy of ID card or passport of legal representative.
• 04 Copy of the commercial contract. 
Consult enterprise choose suitable type of import and export ( Business,Export production, Export processing)
 Registration the contract with Thai Son software company.
 Setup VNACSS software
 Updating digital signature on the Customs system
4.

Registration enterprise information
Updating enterprise information on General Customs system
 Record tax code of enterprise on the system
 Time to update : 24 hours
 Require : business license (copy scan)
1. Import machinery under tax exemption
Registration list of tax exemption

Import machinery and equipment
2. Import machinery under type of business to make fixed assets pay tax
Feature :
Enterprise don't enough condition to get list of tax exemption
• Case of enterprise need to expand the factory
• Enterprises are subject to import duties
• Enterprise pay Vat tax (if any)
• Consulting applied HS code reasonably to benefit business
• Time: can be done right after completing the preparation steps
Importing Machinery equipment 
Enterprise must provide documents as below :
• Invoice – 01 copy
• Packing list – 01 copy
• Bill of lading – 01 copy
• Import contract – 01 copy
• Referral letter – 03 original
• Business license -01 copy
REGISTRATION EXPORT PRODUCTION CONTRACT
Checking warehouse/factory
Object :
Registration the export processing contract / export production contract at first time
• Enterprise receive outsourcing but hire other firms to process all / part
• More than 3 months after completing the import customs procedures for the first batch of raw materials but no have any products to export
• Random on the basis of risk management to assess the law compliance of the enterprise
Time :
After the enterprise submits the complete dossier of notification of export processing contract / export production contract
• Notification time to check warehouse/factory before 3 days
• Inspection agency: representative of the Customs Branch manages the export processing contract / export production contract
Checking content :
The right to use and lawful ownership of the factory's facilities, machinery and equipment
 Fence, security …
 Ownership, right to use of machinery and equipment at the production facility compared to the declaration
– Import declaration (if imported)
– Invoices and vouchers for buying machines and equipment (if purchased in the country)
– Finance lease contract (if renting machines)
 The situation of human resources processing / manufacturing
– Enterprises operating over 2 months: payroll, list of employees covered by insurance
– DN less than 2 months: may add later
PROCESSING IMPORT RAW MATERIAL
Import raw material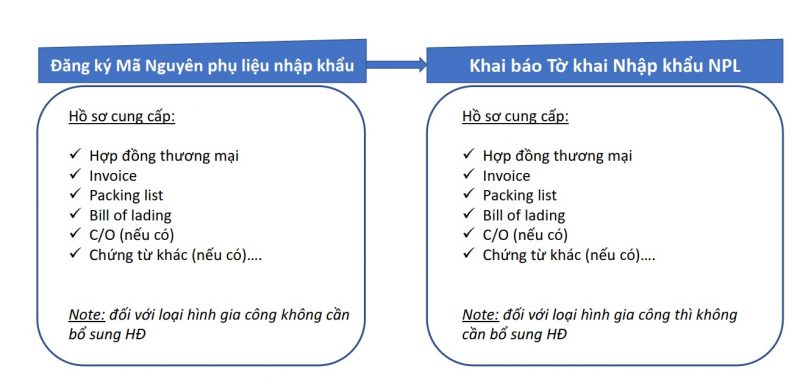 PROCESSING EXPORT THE FINAL PRODUCTS
Export the final products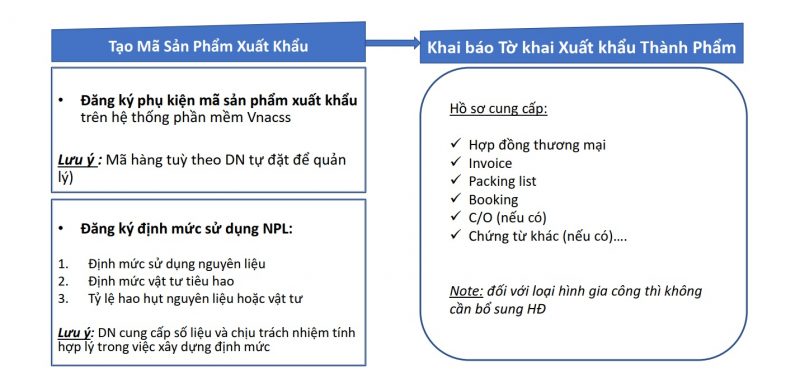 FINAL REPORT (Circular 39)
TYPE OF EXPORT PRODUCTION
Time: the 90th day from the end of the fiscal year at the latest
Annual settlement finalized report
 According to the principle of total value of import – export – inventory of raw materials, supplies, semi-finished products, finished products
 The finalized report must be consistent with the accounting vouchers of the organization or individual.